Can someone please make a betrothal necklace for Korra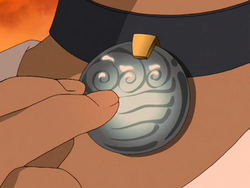 (the image is from Avatar Wiki)
OMG. I am having this random ideas again.
It seems obvious enough that Korra is a water tribe girl, and she is 17.
So she's old enough to receive a betrothal necklace if she wanted, I guess. Because Katara was only 14 in the ATLA, we didn't get to see Aang making one for her. Or is it just because Aang is an air nomad? whateverthereasonis
I really want to see someone making that for her. Whatever ship she ends up with, it's going to be super exciting to see another betrothal necklace thing going on. 
Am I going too far?? Oh well. 
And did I tell you that I ship Amorra and I want Amon making one of those for Korra?